South of Spain and Portugal by train
This page is still ongoing some changes!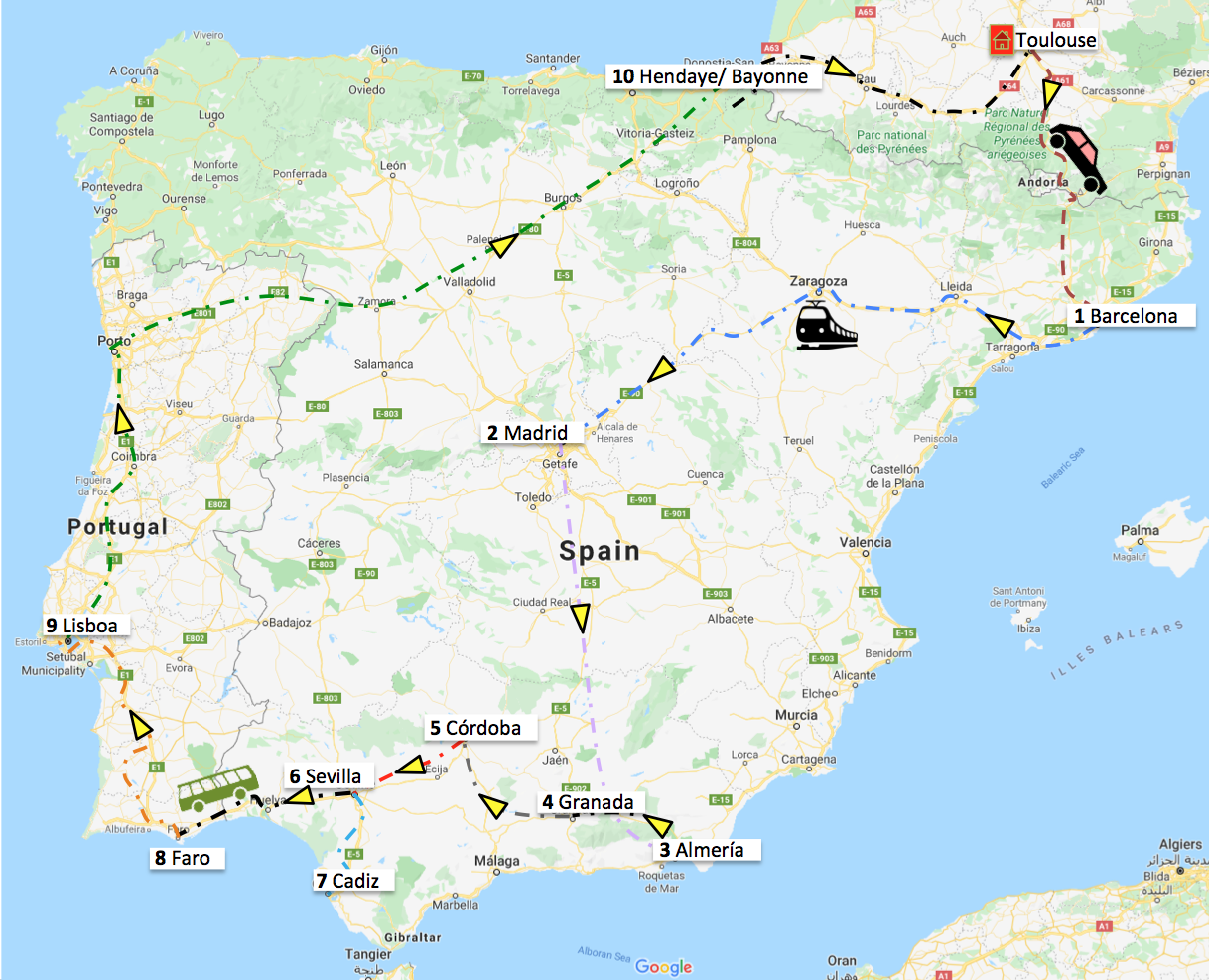 Spanish journey
From South of France to South of Spain
We started our journey from Toulouse with the idea to reach Barcelona by train (regional train), via Latour-de-Carol/Entveitg (in the mountains), which, despite tacking a bit longer, is much cheaper than high-speed trains to Barcelona. However, due to strikes in France that particularly affected trains, we went to Barcelona by car (car sharing). We were lucky enough to find a ride in the morning and could enjoy a sunny afternoon in Barcelona!
Once in Barcelona, you have different options to reach Andalucía: Either you take a high-speed train (AVE trains) to Madrid and then a regional train (Talgo trains) to Almería, or you can go through Alcazár de San Juan instead of Madrid with Talgo trains (longer but cheaper). Unfortunately we could not make it through Alcazár de San Juan as trains were all fully booked to go to the Don Quijote city: Carnival was happening at the same time and we were not quick enough to book our tickets!
We left Barcelona (Sants) in the early morning the next day to reach Madrid (Puerta de Atocha) in about 3 hours, giving us 5 to 6 hours before our connection to Almería. We spent the afternoon at the Parque del Retiro, a big green spot in Madrid where you can visit the Palacio de Cristal, a glasshouse hosting exhibitions, and closeby, the Palacio Velazquez, which also hosts contemporary art.
From Madrid, we took the Talgo train that passes by Alcazár de San Juan and lets you admire the majestuous windmills (Molines) to finally reach our first destination in Andalucía: Almería!
Good to know:
In Spain museums are closed on Monday. If you're a student, don't forget your student card to get discount.
The typical Spanish/Andalousian breakfast is made of tostadas con aceite (olive oil locally produced), tomatoes, or mantequilla (butter) along with a fresh orange juice (grown locally) and a coffee (con leche or bombon, which is a coffee served with milk concentrate). This costs as little as 4-5 euros.
Almería
The train from Madrid to Almería takes you through various landscapes, leaving the mountainous region of Madrid to reach the southwest part of the country in about 6-7 hours. The weather in Almería is very different from the other places we went to. The city is warm and pretty dry due to the proximity of a desert in the surrounding area. This is highly contrasting with the snowy mountains of Sierra Nevada!
The first day we walked around the town and climbed up to the Christ Statute, which offers a panoramic view on the city, the sea, on the fortress walls and on the district of La Chanca (a district built against the mountain with squary and colourful little houses).

The Alcazaba
Museo de arte Dona Pakyta
La Chanca (view from the fortress)
Granada and Sierra Nevada
La Alhambra

Córdoba

Mezquita-Catedral (Mosque-Cathedral)

Sevilla and Cádiz

Sevilla: Cathedral (former Mosque); Real Alcázar
Portuguese journey
We left Sevilla to reach Faro by coach (Alsa company). It is a 3-hour journey over Huelva. We had not realised there was a time difference between Portugal and Spain (1 hour less in Portugal), which made our bus journey longer than expected! That's how you learn :)
Faro
What we did not have time to do but is apparently worth trying: a boat cruise to explore the surroundings. Renting a car to go around is also a nice thing to do. Because we had only one afternoon to spend in Faro, we mostly walked around, enjoying the sunny weather.
What I loved about Faro is the mix of coulours and textures on houses in the Old Town and the cute stores in the more modern part of the town. I bet there are much more people in spring and summer, but by the time we were there (early January) the city was very quiet, contrasting with Sevilla where we were the days before!


Lisbon
Castelo de Sao Jorge
Fundaçao Calouste Gulbenkian (Museum)
The Carmo ruins (and archaelogical museum)